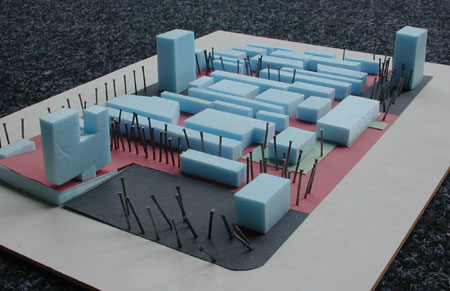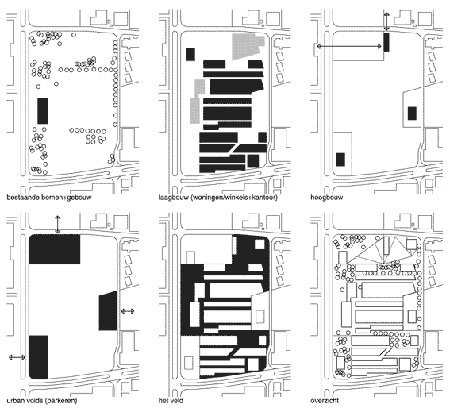 Voor een groot perceel nabij het centrum van Emmen, ooit in gebruik door scholen, is een programma voor 160 woningen en enkele winkels gegeven. De bestaande volgroeide bomen handhaven is een belangrijk uitgangspunt; dat geeft een buurt gelijk kwaliteit, zeker vergleken met de gangbare nieuwbouwwijken. Het concept vind zijn wortels in de lokale geschiedenis; de zogenaamde es of eng, een gemeenschappelijke beheerd veld met private grond ontstaan in de middeleeuwen. Jouw land is alleen bereikbaar via andermans land en dat vraagt om afspraken over gewas en oogsttijd.
Hier is dat 'het veld' genoemd. Het veld is 'begroeid' met patiowoningen met maximaal drie bouwlagen en een openbare ruimte van gras en stenen in verschillende dichtheden (0, 25, 50, 75 + 100%).
Drie 'urban voids' verbinden bestaande en nieuwe parkeerterreinen en worden gemarkeerd met drie verschillende slanke woontorens van twaalf verdiepingen.
Op deze wijze zal het herontwikkelde gebied sterk verbonden zijn met de bestaande stad en met haar eigen ruimtelijke kwaliteit.
On a big plot near the centre of Emmen, formerly used by schools, a program for 160 houses and some shops was given. To save existing trees was a main goal; this gives the new neighborhood immediate quality compared to the general new urban extensions. The concept is taken from local history; the so-called 'es' or  'eng' was a communal ruled area with private owned land, from the Middle Ages. You only could enter your land through land of others, which required deals about crops and harvest time. Here it is called 'het veld' (the field). The field is 'planted' with courtyard houses of three floors and public space is made of grass/stones in several graduations (0, 25, 50, 75 + 100%).
Three urban voids (parking) connect surrounding parking lots and are marked by slim towers of twelve stories.
In this way the new area will be strongly connected to the existing city with its own spatial quality.
competitie
stedenbouwkundig plan