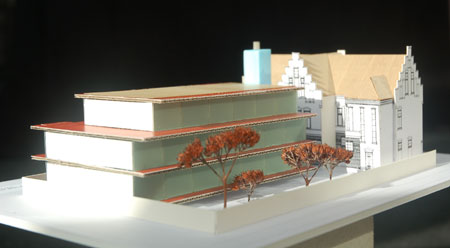 Onderzoek naar de uitbreidingsmogelijkheden en het hergebruik van een voormalig postkantoor. Een ontwerp van rijksbouwmeester C.H. Peters uit 1912. Door het monument te ontdoen van allerlei latere toevoegingen is het mogelijk achter het gebouw een beschermde woonvorm te realiseren. De architectuur van het nieuwe deel is eigentijds maar sluit qua schaal en maatsysteem aan bij het bestaande gebouw.
De centrale voorzieningen bevinden zich in het oude gebouw. Een transparante hal met lift verbind beide delen.
Research extending and reusing a former post office. A design of state architect C.H. Peters from 1912. By removing all not original extensions space was created to add a building block with so-called 'protected living' apartments. The architecture of the new part is contemporary but scale and rhythm were 'borrowed' from the monument. Central provisions are in the old building. A transparent hall with an elevator connects both parts.
project
GLSA, groenesteijn luijk samenwerkende architecten