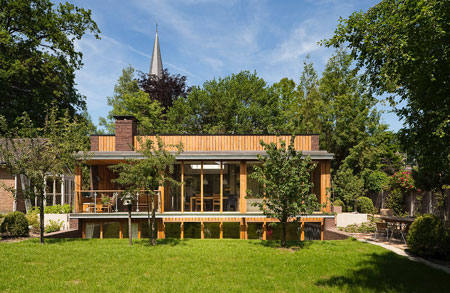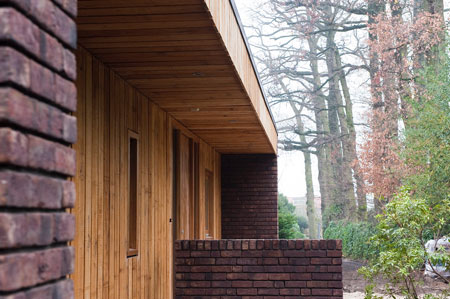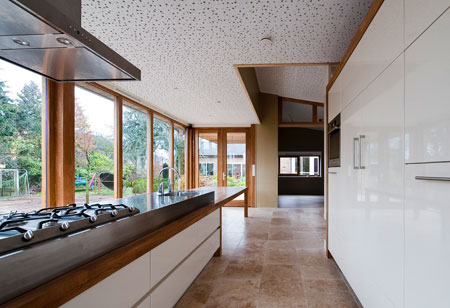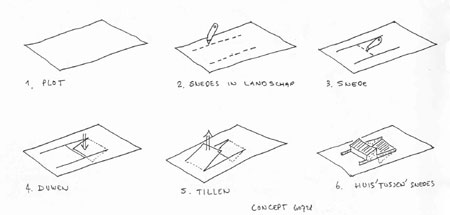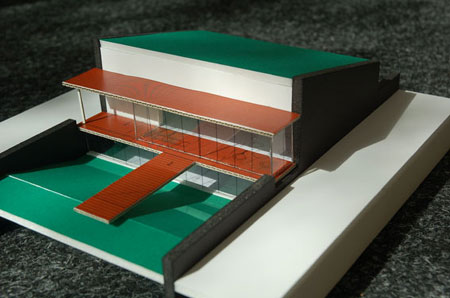 Op een prachtige en gevoelige plek tussen bestaande bebouwing en een monumentale kerk was de mogelijkheid om een extra woning te bouwen. Deze ingreep vroeg om een zorgvuldige inpassing in de situatie. Vandaar één verdieping boven en één verdieping onder de grond.
Het bovenste niveau van de villa –voor een gezin van vijf personen- is geheel rolstoeltoegankelijk. Een vraag van de opdrachtgevers was zoveel mogelijk daglicht te voorzien, ook in het souterrain. Daarnaast moest de woning zo milieuvriendelijk (gif- en stralingsvrij) mogelijk zijn.
Het eerste idee was de voorgestelde bouwmassa negentig graden te draaien om de beste oriëntatie op de zon te krijgen en het zicht op de tuin daarmee te optimaliseren. Het tweede voorstel was om het huis onderdeel van het landschap te maken. Als het ware twee snedes in de grond te maken, door duwen en trekken plooide het huis zichzelf. De snedes zijn zichtbaar als twee gemetselde wanden, de andere gevels zijn uitgevoerd in eikenhout en glas. Op het dak ligt gras.
On a beautiful quiet spot between existing houses and near a monumental church there was an opportunity to add an extra house. The plan asked for a very careful treatment of the landscape.
The upper level of the villa–for a family of five persons– needed to be wheelchair accessible. The client demanded for the lower level (basement) much daylight. Also was asked for an ecological approach.
Our first proposal was to rotate the foreseen volume 90 degrees to provide the best orientation to the sun and get the maximum view on the garden.
The second was to make the house as a part of the landscape.
The idea was to make incisions in the ground and by pulling and tilting the house formed itself. The incisions are made visible by two brick walls. Other facades are clad in oak. The roof will be executed with grass.
fotografie: Christiaan de Bruijne, Koog a/d Zaan