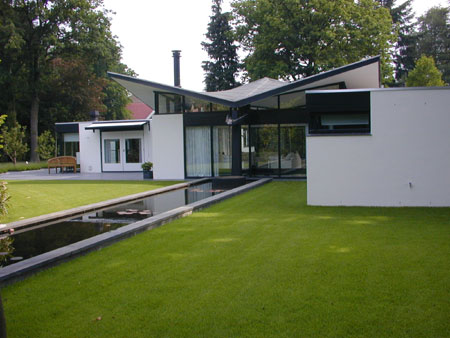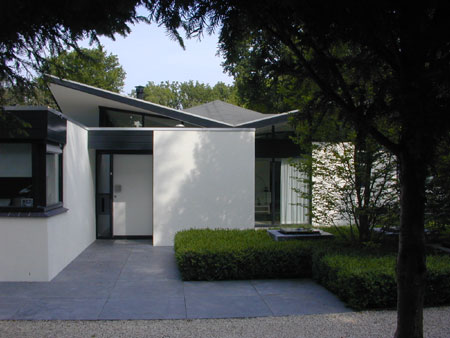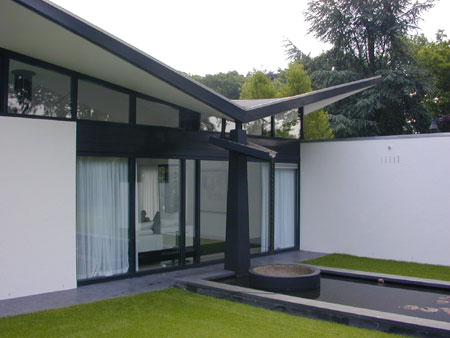 Gedeeltelijke restauratie en uitbreiding van een bungalow uit de jaren zestig door architect Gé van der Pol. Oorspronkelijk gebouwd met eenvoudige materialen als betonsteen en hout en met een prachtige plattegrond voor een belangrijk zakenman. Destijds gepubliceerd met beelden van de bekende fotograaf Jan Versnel. Diverse bewoners hebben het huis sindsdien gewijzigd en uitgebreid met weinig respect voor de oorspronkelijke ideeën. De woning is aangepast aan de eisen van de tijd in opdracht van de huidige bewoners, niet oorspronkelijke onderdelen zijn verwijderd en de woning is uitgebreid met een souterrain.
Restoration (partly) and extension of a bungalow build in the sixties by architect Gé van der Pol.
Originally constructed in simple materials like concrete blocks and wood and with a beautiful open plan for a captain of industry. In that time published with pictures by famous photographer Jan Versnel. Through time the house was altered and expanded by different owners with less respect to the original ideas. The house is made 'up to date' by the current habitants and expanded with a basement.
met advies van architect Gé van der Pol, Renkum