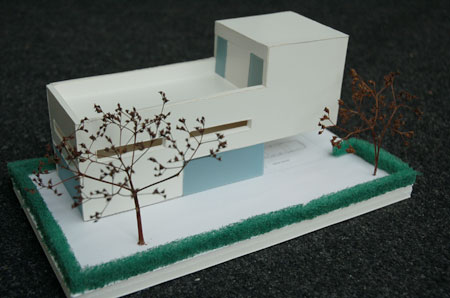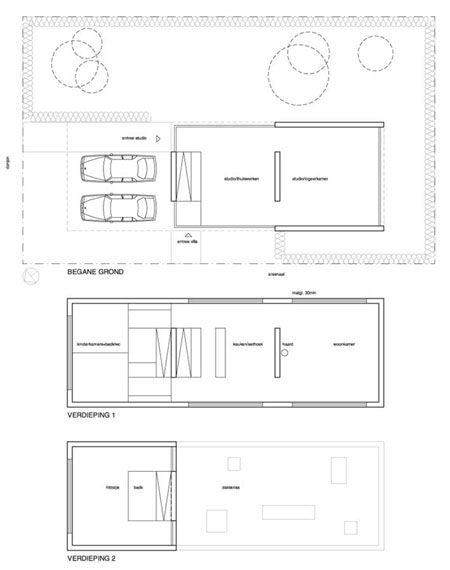 Het ontwerp voor het K46 huis is gemaakt voor een opdrachtgever met een heel specifiek programma voor het laatste beschikbare 'vrije' kavel in dit deel van Vijfhuizen in de Haarlemmermeerpolder. Vanwege de ligging op een straathoek en de zichtbaarheid is het huis een blikvanger. Een sfinx zou een referentie kunnen zijn.
Op de begane grond was een grote werkruimte gesitueerd met een zelfstandige entree. Op de eerste verdieping bevinden zich de woon- en slaapruimtes. Op het bovenste niveau is een fikse 'masterbedroom' en dakterras gemaakt.
De constructie moest heel simpel zijn om de kosten laag te houden. De gevels kunnen worden gemaakt van twee typen betonelementen (prefab) en is afgewerkt met stucwerk.
De opdrachtgever stopte het project nadat bleek dat zijn wensen en financiën niet met elkaar in evenwicht bleken te zijn.
The K46 house design was made for a customer with a specific program for the last available plot in this part of Vijfhuizen. The plot is on a corner of two roads and due to the visibility the house is an eye catcher. A sphinx could be a reference.
At ground level a workspace must be made with its own entrance. At the first floor are the living room, kitchen and children's bedrooms positioned. At the top level a huge master bedroom and roof terrace were made.
The structure should be very simple to keep costs low. The elevations could be made in prefab concrete element in two types and finished in plaster.
Ultimately the client decided to cancel the project; their wishes did not match their financial possibilities.
niet gerealiseerd