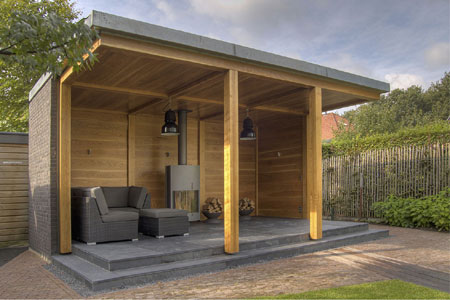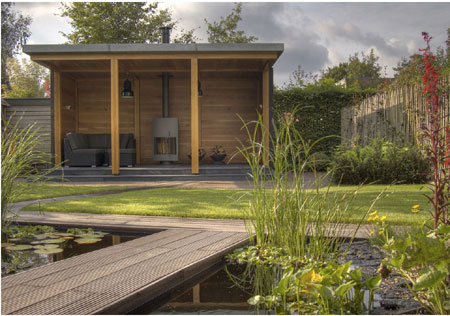 Aan het einde van een bestaande tuin is een paviljoen ontworpen, een overdekt terras van ca 24 m2, een plaats van contemplatie. Door de afwezigheid van hoekkolommen ontstaat een ruimtelijke relatie met de tuin. Het ontwerp is gebaseerd op vierkanten en een eenheid van 15 cm of veelvouden daarvan; bijvoorbeeld kolommen en dakrand van 15×15 cm, treden 15×30 cm, etc.
De draagconstructie is uitgevoerd in massief eikenhout. Verder zijn o.a. baksteen, hardsteen en zink gebruikt.
At the end of an existing garden a pavilion is made like a covered terrace of approximately 24 m2, a place of contemplation. The absence of the corner-columns makes the construction spatial.
The plan is based on squares and 15 cm units; i.e. columns 15×15 cm, stairs 15×30 cm, roofline 15×15 cm etc.
The construction is entirely made of oak, cladding in brick, blue stone and zinc.
fotografie: Hilde Sneep, Baarn