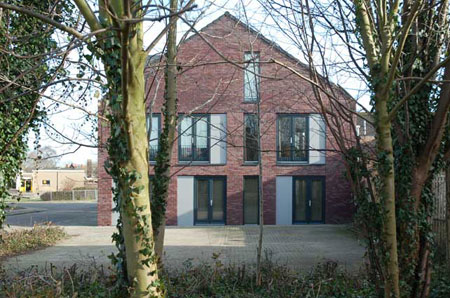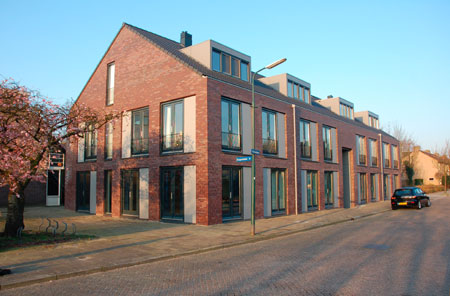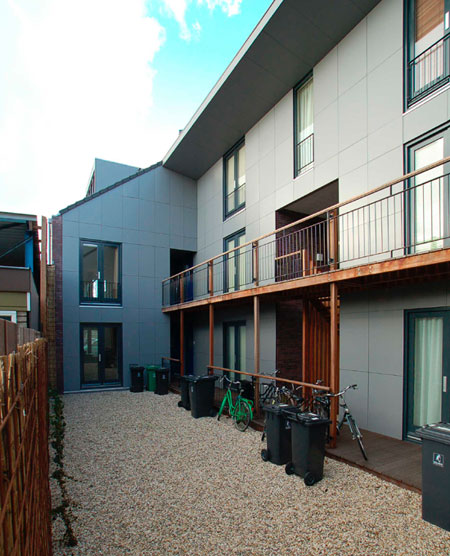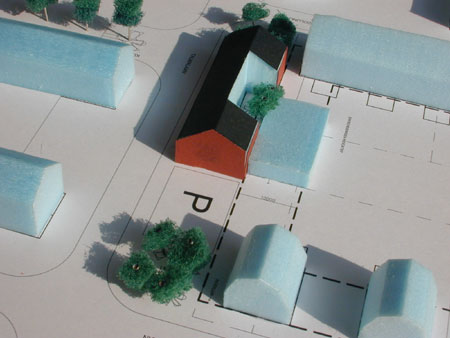 Kunnen tien kleine woningen samen een groot huis vormen?
Het ontwerp is een inpassing in een strokenbouw wijk uit de jaren zestig. De sterke stedelijke opbouw is ook op dit perceel doorgezet. Maar in plaats van zogenaamde doorzon- of duplexwoningen is het volume gevuld met starterswoningen, vier op de begane grond en zes op de verdieping, die bijzondere plattegronden hebben.
Het perceel is vrij klein, 12×30 meter. Om in voldoende licht te voorzien is een grote patio van 6×13 meter uit het volume gesneden. Dit maakt interessante overgangen tussen publieke en private ruimte mogelijk.
Door eenvoudige maar zorgvuldige details krijgt het gebouw abstracte kwaliteit die toch aansluit bij de gebouwen uit de omgeving.
Can ten small houses be one large house?
Design within a dominant urban framework from the sixties for four houses at ground level and six so-called maisonettes. The small houses fill the urban volume like a jig-saw puzzle.
De site is very small, 12×30 meter. To get enough light in the building a patio, of 6×13 meter, is cut off the building mass. This makes interesting relations between the public and private domain possible.
By very precise detailing this project tries to get an abstract quality, still referring to the shapes and materials used in the surroundings.
gepubliceerd in: Appartementen op ondiep kavel, Bouwwereld 18/2005