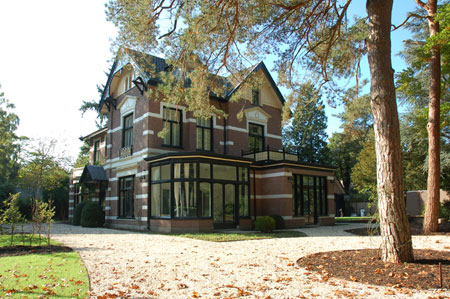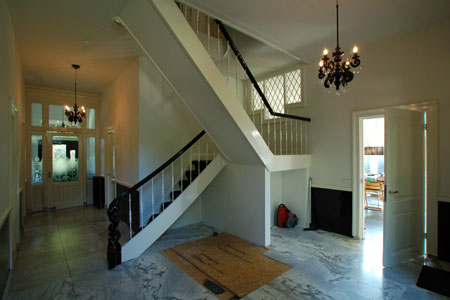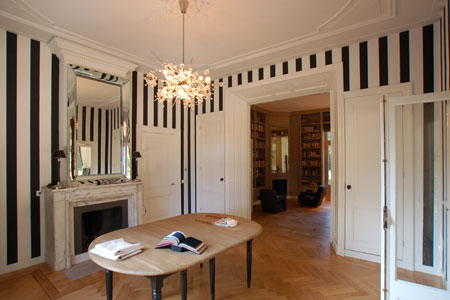 Restauratie van een grote villa, oorspronkelijk gebouwd in 1885. Architect onbekend.
Het huis is gebouwd in een eclectische stijl met chaletachtige kenmerken in opdracht van een arts van een nabijgelegen sanatorium. Daarna diverse malen veranderd en uitgebreid en na de tweede wereldoorlog in gebruik genomen als meisjesinternaat.
Na uitgebreide analyse van de bouwhistorie zijn niet passende veranderingen en uitbreidingen verwijderd. Het timmerwerk zoals kozijnen zijn in hun oorspronkelijke staat met details van 1885 hersteld.
Restoration of a large house built in 1885. Architect unknown.
The house -with chalet-like ornaments- in eclectic style was built in order of a medical practitioner of a nearby sanatorium. was extended several times and has after WWII also been used as a private school for wealthy girls.
After analyses of the buildings history, parts of the ugly extensions and alterations were removed. All not original timber like windows has been replaced in its original state with the detailing from 1885.
interieur: in samenwerking met Gepke Hofstra Interior Design, Amsterdam.
gepubliceerd in: Zoektocht naar de historie van Villa Euxinia, A. Geerts, Baerne,
dec 2009.