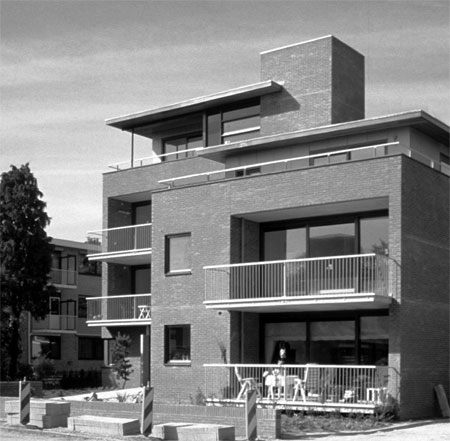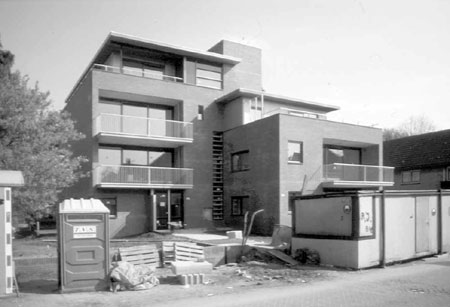 Dit gebouw bestaat uit 2 elementen en is bekleed met een doorlopende geperforeerde huid, waardoor een plastische vorm ontstaat. Op vergelijkbare wijze maakt de bekende beeldhouwer Chillida zijn Lurra sculpturen. Daarnaast markeert het de overgang van vier bouwlagen ten westen van het perceel naar een vrijstaande woning oostelijk daarvan.
Het project de eigentijdse, gestapelde versie van jaren vijftig bungalows. Laagbouw zonder trappen op grote kavels, de Amerikaanse droom.
Onder de zeven woningen, in vijf typen, is een garage gebouwd. De woningen van ca 120m2 kunnen als loft, twee- drie- of vierkamer appartementen worden gebruikt. Duurzaam gebouwd volgens te toenmalige DuBo regels.
This building exists of two blocks and is dressed with one perforated skin, which gives it a plastic shape. In the same way makes the famous Spanish sculptor Eduardo Chillida his Lurra-serries.
This project is a compact 'bungalow-landscape'. Low buildings on big plots known from the '50, the ultimate American Dream, now stacked. The structure consists of a garage and seven apartments, in 5 different types. The apartments (120m2) can be used as loft, 2-, 3 or 4-room houses. This project is built in a sustainable way, within the so-called 'dubo' rules.