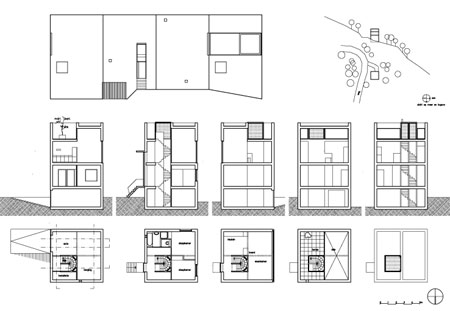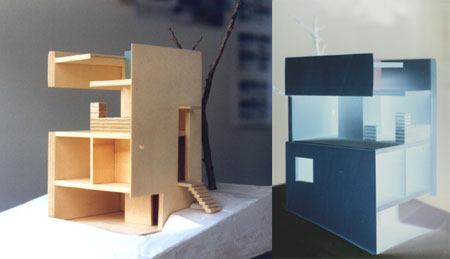 Dit huis is een paar honderd meter boven het meer ten noorden van Lugano in Zwitserland, gesitueerd, vlakbij een bocht in een kleine weg.
Swiss huis is bedacht als vakantiewoning. De plattegrond is gebaseerd op een eenvoudig gelijkbenig kruis zoals op de Zwitserse vlag. De buitenkant is ook een eenvoudige vorm: een uitgerekte kubus, gemaakt uit natuursteen met details in schoon beton en hout.
Dit is een uitkijktoren, een moderne vestingtoren (donjon)
De woonruimte is op de bovenste verdieping om het uitzicht te garanderen vanwege de bomen op de steile helling.
Het eenvoudige huis heeft ook een garage, twee slaapkamers, een dakterras en bijbehorende ruimtes.
The house is situated a few hundred meters above the lake north of Lugano, in Switzerland, near a bend in a road.
Swiss house is conceived as a holiday residence. The plans are based on a simple cross, originated from the Swiss flag. The outside form is also a simple shape: the cube, made of rubble stone and details in exposed concrete and wood. This is a watchtower, a modern 'donjon'.
The living space is on the highest level to be sure of the views, because of 'green' on the steep hillside. This very basic house contains also a garage, two bedrooms, a roof terrace and some facilities.