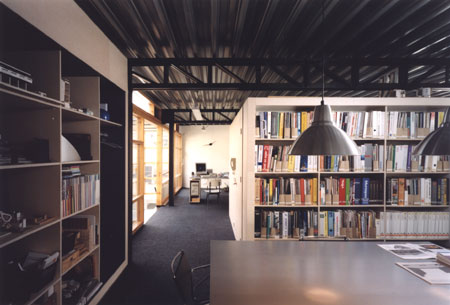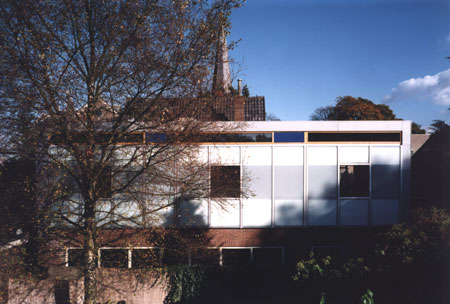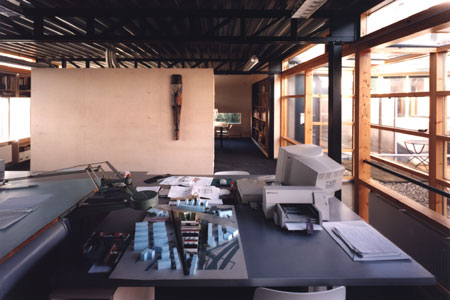 Kantoor of woning?
Op bedrijfsgebouw en naast een bestaande woning is een glazen 'doos' geplaatst. De gebouwen vormen zo een patio zoals je die ook vind in de oude boerderijen in Limburg of de hofjes voor ouderen in Haarlem.
De oorspronkelijke fundering was niet gemaakt voor twee zware verdiepingen daarom is gekozen voor een lichte opbouw in hout en staal. Het zicht is gericht op de patio, al het andere glas is mat. Dit volume is nu in gebruik als architectenbureau maar kan ook worden gebruikt als loft.
De kern is een vrijstaande houten kubus waar een grote ruimte omheen loopt. In de kubus zijn toilet, keuken en de mogelijkheid voor een badkamer opgenomen. In de spanten kunnen zijn voorzieningen voor schuifdeuren opgenomen om de ruimtes te kunnen indelen. Een heel flexibele ruimte.
'Bouwen met staal' heeft dit gebouw op hun site gezet als voorbeeldproject in de categorie 'woningen van staal'
Office or apartment?
This glasshouse is put on top of, and next to, an existing building. The buildings are arranged around a central space like the courtyards of old Limburg farms or complexes for elderly (18th century) in Haarlem.
Because the foundations were not made for two 'heavy' elevations we decided to make a light upper part of steel and wood. The view is centred on the courtyard. Most of the other glass is etched. This volume is now used as an architect's office, but can also be used as a loft.
The core is a free standing cube so the space can flow freely around it. In the cube are a toilet, kitchen and the possibility to have a bathroom. In the trusses you can make sliding doors to divide the room. This is the ultimate flexible space.
'Bouwen met staal' exposed this project on their site is as an exemplary steel constructed house.
fotografie: Bastiaan Ingenhousz, Dordrecht