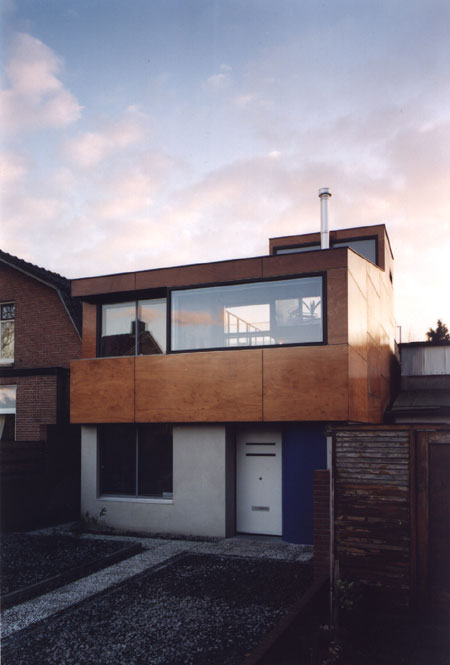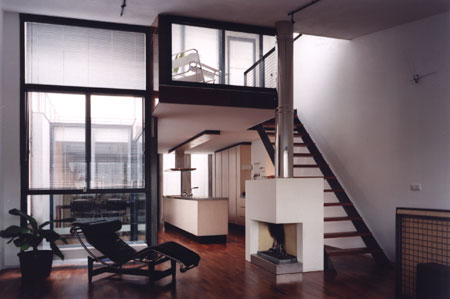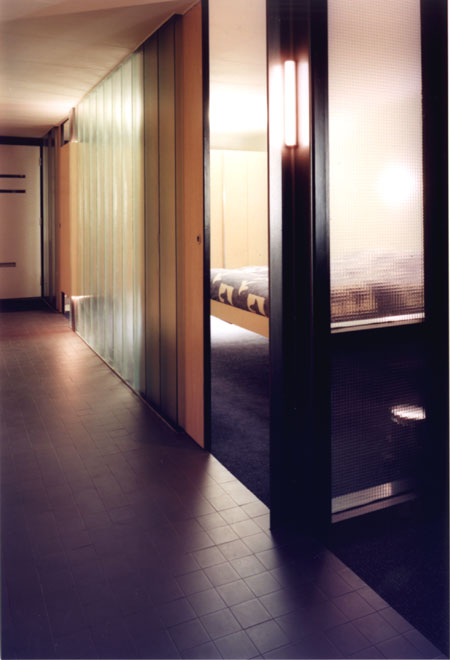 Op een smalle diep kavel, geheel gericht op de straat ontstond door sloop van een schuur de mogelijkheid om een woning te realiseren. De dicht bebouwde buurt bestaat veelal uit woningen en kleine bedrijfjes.
Het totale bouwvolume was beperkt tot 14×5 meter en 2 verdiepingen. Omdat het perceel aan drie zijden ingesloten was werd daglicht een belangrijk aandachtspunt. Na een uitgebreide analyse van de situatie is besloten om twee kleine patio's uit de bouwmassa te snijden. Deze patio's organiseren vervolgens licht en ruimte. In plaats van het gebruikelijke stapelen van massa's is hier als een zorgvuldige beeldhouwer gewerkt. Het belang van licht bepaalde dat de woonkamer en eetkeuken op de eerste verdieping zijn gesitueerd en op een entresol is een prieel met terras gemaakt.
Het huis met een steenachtige (stucwerk) basis en een opbouw uit hout kan worden gezien als de twintigste-eeuwse interpretatie van het negentiende-eeuwse mansarde huis, een veelvoorkomend gebouwtype in deze omgeving.
On a small deep plot, totally directed to the street, was a possibility to pull down a barn and build a house. The area is densely filled with small businesses and housing.
The total mass was restricted to 14x5m and two elevations. Surrounded by neighbours on three sides, light was a problem. After intense (urban) studies, we decided to cut two small courtyards out of the mass, which organizes light and functions. Instead of the usual stacking we sculptured by taking away material.
The importance of light directed the living and kitchen to the first floor and on a small entresol there is a teahouse and terrace.
This house, with stucco bricks on ground level and a wooden upper part can be seen as the 20th century version of the 19th century 'mansarde'house, the most build type in this village.
fotografie: Bastiaan Ingenhousz, Dordrecht
geselecteerd voor de internationale Prix Rhenan 2000