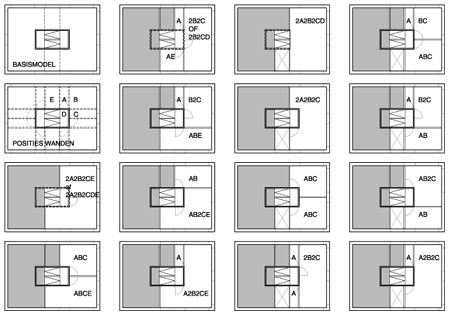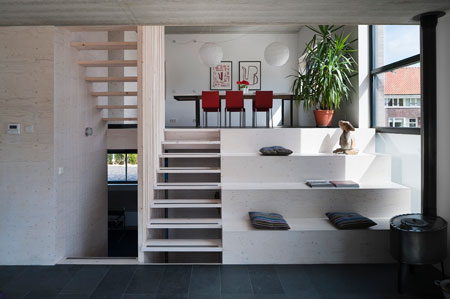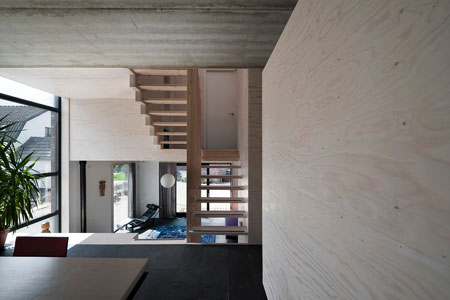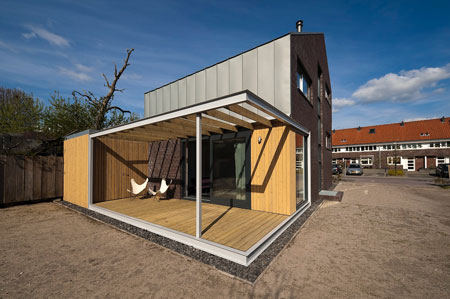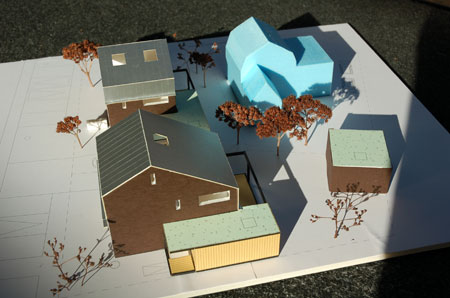 Een bestaande locatie is herontwikkeld door het slopen van schuren en het toevoegen van twee woningen. De nieuwe woningen zijn niet identiek maar ontworpen als een familie. Het bestaande huis (blauw in de maquette) kan op een later moment ook deel gaan uitmaken dit plan.
De kavel bevind zich tussen een negentiende-eeuws wijkje met hele kleine woningen en een recente toevoeging van en veel grotere schaal. Het ontwerp is gebaseerd op de beste bestaande karakteristieken van beide gebieden maar uitgevoerd op een eigentijdse manier.
Het eerste, nu gerealiseerde huis is UNIVERSAL genoemd. Het heeft een experimentele split-level opbouw waarbij in principe iedere vloer, iedere functie kan bevatten. Als voorbeeld; de eetkeuken kan op de bovenste verdieping worden gemaakt maar ook in het souterrain. De keuken heeft de maat van twee (slaap)kamers. Alle verdiepingen hebben dezelfde oppervlakte en de trappen bevinden zich exact in het midden tussen de verdiepingen.
De omhulling is steenachtig, buiten baksteen, binnen wit en de vaste vloeren zijn van beton. Alle veranderbare onderdelen zoals binnenwanden, trappen, tribune, kasten etc zijn gemaakt van zichtbaar naaldhout.
Het dak is gedekt met Falzinc, een milieuvriendelijk alternatief voor zink en het bijgebouw is bekleed met hout.
Het tweede huis is ontworpen in dezelfde materialen en verhoudingen maar heeft meer traditionele plattegronden. De uitvoering is voorzien in 2011.
Redeveloping of a site by removing barns and the addition of two houses. The houses are not the same but designed as a kind of family. The existing house (blue in the model) could on a later moment also be part of the plan.
The plot lies on the border of a 19th century neighbourhood with very small houses and recent addition of a more larger scale. This plan takes best of both areas, for example the mansard roof, made in a contemporary way.
The first, now realized house is called UNIVERSAL house. Its made with split-level floors is a way that every floor could contain every function. For example; the kitchen could be made on the top floor but also be in the basement.
The kitchen is the double size of a bedroom.
All floors are exactly the same size and the stairs are in the exact middle.
The skin is made of brick (outside) and made white inside. Besides the skin and the concrete floors the entire interior is made of visible wood (spruce). The interior is extremely spatial.
The roof is made of falzinc and the additions are made of wood.
The second house is made with the same materials but with a more conventional floor plan and is planned for 2011.
'met minimale inzet van esthetische opsmuk, toont de architect zoveel mogelijk de ware aard van de materialen'
Anne Seghers over universal house in 'de Architect', november 2010.
fotografie: Christiaan de Bruijne, Koog a/d Zaan
gepubliceerd in:
Universal House, Baarn, Anne Seghers, De Architect Interieur nov 2010
Universal House in Baarn, dearchitect.nl, 10 januari 2011
Universal House, Baarn, architectenweb.nl, 26 januari 2011
Architectuur in Nederland/Architecture in the Netherlands 2010/11, Ed. Samir Bantal e.a.; De overtreffende trap blz 32-37 en Universal House blz 94-97, NAi Uitgevers/Publishers Rotterdam, 2011
Boekbespreking Jaarboek Architectuur, Hilde Haan, De Volkskrant, 22 april 2011
Prestigieus project van baksteen, beton en vurenhout, Chris vd Burg, Baarnsche Courant, 27 april 2011
Boekbespreking Jaarboek Architectuur, Bernard Hulsman, NRC Handelsblad, 12 mei 2011
De uitdaging van een eenvoudig ogend huis, Hans van Keken, De Gooi- en Eemlander, 16 juni 2011