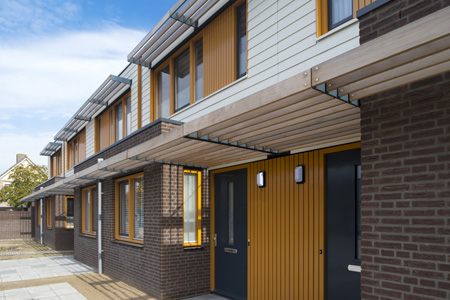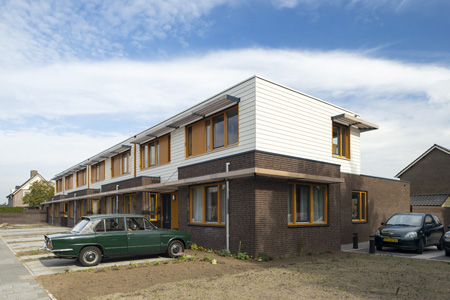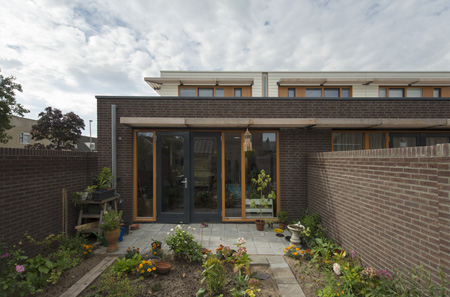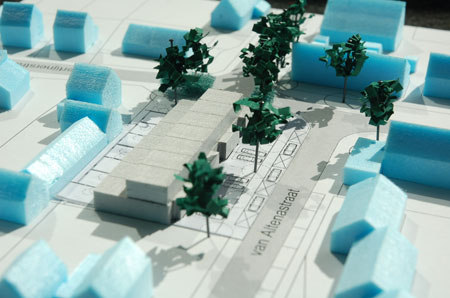 Voor een hoeklocatie in Elshout, gemeente Heusden, is iov SMT een plan gemaakt voor zeven koopwoningen met een dakopbouw en een ommuurde tuin. Primair bedoeld voor senioren vanwege de slaapkamer op begane grond maar ook geschikt als starterswoning. Rond het perceel kun je de ontwikkeling van de seriematige woningbouw van de laatste zeventig jaar aflezen. Uit vrijwel ieder decennium is een voorbeeld te vinden maar ook de agrarische geschiedenis is te zien in de vorm van een voormalige boerderij. Vanwege de ligging aan een kruising van wegen is kopgevel voorzien van ramen en een hoekerker. De smalle en diepe woningen hebben flexibele plattegronden.
Standaard zijn vier indelingsmogelijkheden aangeboden. Bij ingebruikname van de woningen bleek iedere bewoner een unieke indeling te hebben gemaakt, er zijn geen twee woningen gelijk.
For a corner plot in the small town of Elshout is an idea was made for seven houses with a courtyard and a rooftop extension. Useful for elderly while a sleeping room on ground level is foreseen but also adaptable for young house owners. Around the plot the history of housing development from the last seventy years is visible with examples from every decade. A nearby farmhouse shows the agrarian history of this town. Within the strict urban rules the corner solution got extra attention. The plan of the houses can be flexible divided; in the end every house got a unique division.
fotografie: Christiaan de Bruijne, Koog a/d Zaan
GLSA, groenesteijn luijk samenwerkende architecten