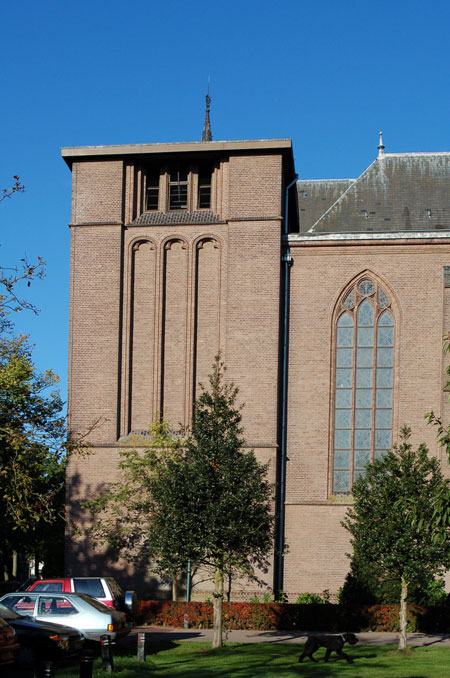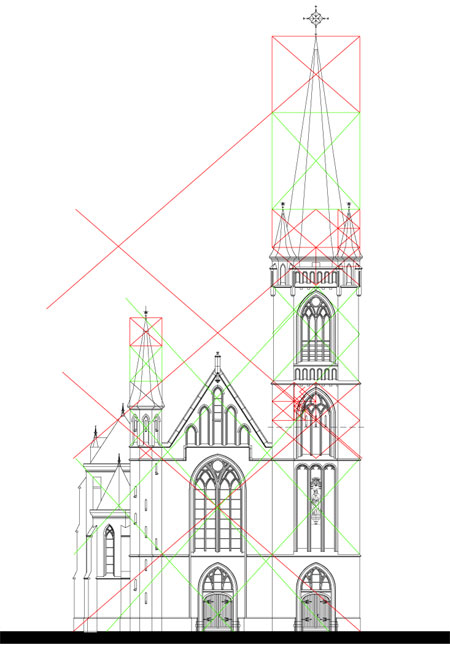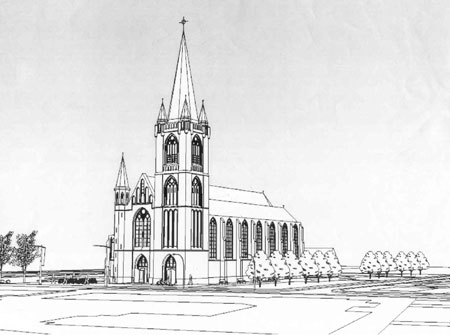 Op verzoek van het kerkbestuur is een onderzoek gedaan naar de niet afgebouwde toren van de RK St Nicolaaskerk in Baarn. De huidige kerk is een ontwerp uit 1904 van architect W.G. Welsing uit Arnhem in neogotische baksteenarchitectuur en verving een eerder gebouw wat te klein geworden was. Vermoedelijk is de bouw van de toren gestopt wegens geldgebrek toen met op ongeveer een derde van de hoogte was. Na uitgebreid archiefonderzoek is gebleken dat er van het oorspronkelijke ontwerp geen documenten bekend zijn behalve een perspectiefschetsje op postzegelformaat.
Vervolgens is de hele kerk minutieus ingemeten en uitgetekend. Daarbij is een maatsysteem ontdekt waardoor, in combinatie met de gevonden schets, een reconstructie van het verloren ontwerp mogelijk was.
On request of the local church government research is done after an unfinished tower of the Catholic St Nicolas church in Baarn. De current church is a design from 1904 of architect W.G. Welsing from Arnhem. Made in neo-gothic brick style architecture this building replaced an earlier church that became too small.
Probably the building of the tower stopped due to financial reasons when it became on one third of its height. After extended research of archives no original drawings of the design were found except a very small perspective sketch.
After that the entire church is meticulous measured and drawn. A design system was discovered and in combination with the founded sketch a reconstruction of the lost design was possible.
project
team: Dirkjan Westmaas (assistent) en Martin Groensteijn (architect)